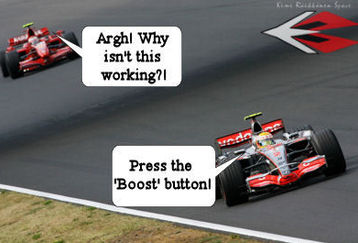 Once past the first corner of the race, overtaking in a Formula One car is an incredibly difficult art. Here's why.
Passing on the straight: The power difference between even the fastest car and the slowest is rarely enough make overtaking simply a matter of blasting by on the straight. For that to work, the driver needs to complete the move before the next corner arrives, because unlike racing on an oval track, there is only one real "line" through a corner; anything else is much slower. Therefore the overtaking car would need to get completely in front of the car it's passing rather than just nosing ahead, in order to then take up track position for the next turn. It's rare for such a performance differential to exist between cars to make this possible.
Passing under braking: This is where the moves – such as they are – are usually made. But this is by no means easy. With over 2000kg of pressure pushing the cars into the road, they can decelerate with enormous force –up to 5g. Even the act of lifting your foot from the accelerator pedal creates around 1g of deceleration – around the same as a full emergency stop in your road car – and that's before the brakes have been applied! Consequently the braking distances for corners are incredibly short. The shorter the braking distances, the less opportunity there is to pass under braking.
Slipstreaming: The driver of the car behind can benefit from the slipstream effect. This is where the car ahead punches a hole through the air, greatly reducing the air resistance for any car immediately behind it. This effect means that the following driver can use less throttle for the same speed and then simultaneously pull out and floor the throttle to gain a brief surge that might get him ahead. To be successful, the driver has to carry out this move just before the cars enter the braking zone – and on the inside line for the corner. Given that the defending driver is allowed one blocking move between corners, he should invariably have that situation covered, forcing his attacker to take the long way round – the outside.