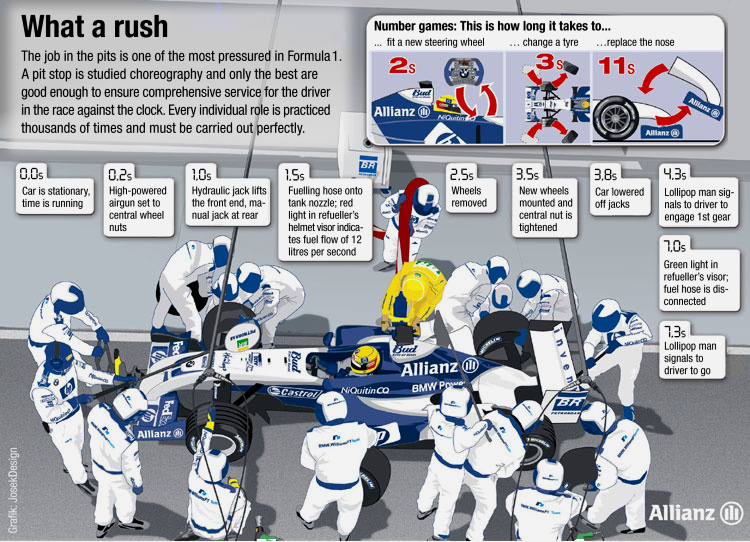 Up to 20 pit crew are allowed to service the car during a pit stop. Typically these include the following:
Two men at each wheel who work in concert to change the tyres
A front jack man who raises the front end of the car
A rear jack man who raises the rear of the car and restarts the motor if it stalls
A lollipop man, who drops the lollipop in front of the car to signal where it should stop
Three refuellers (including one on stand-by) who add the necessary fuel
Two fire extinguisher men who stand by in case of a fire
Maybe a visor cleaner (some drivers prefer not to have one) who wipes the visor of the driver's helmet In addition, a team manager usually oversees the whole operation.
That leaves a couple of spare pit crew to do any changes to the car such as wing settings. With the exception of the team manager, the pit crew usually double up as mechanics. No formal qualifications exist that specify who can or can't be a member of the pit crew, but crew members are invariably fully trained as mechanics. The lollipop man is often the chief mechanic. During a pit stop these folks move in high gear. Each has a job to do and must do it quickly and well.
Between pit stops the pit crew gets to sit down in the pit garage and watch the race on the monitors. They swear when their driver messes up or make rude signs at the screen when he's not assertive enough in dealing with another driver. They make friendly banter with each other. This is one of the few chances they get over the whole weekend to relax.